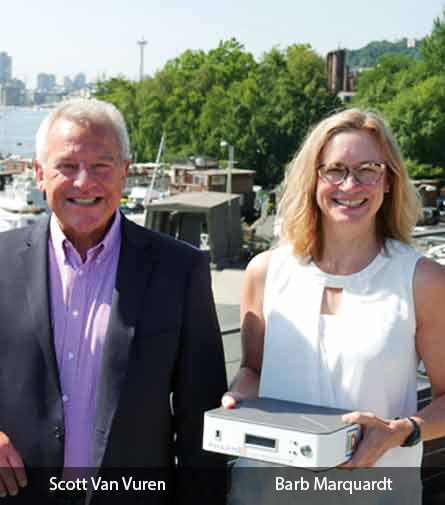 Scott Van Vuren, CEO, Barb Marquardt, Chief Product, and Medication Officer
Drug diversion continues to impact the healthcare and pharmaceutical industries of the United States. As per John Burke, President of International Health Facility Diversion Association, at any given time, there are 37,000 drug diverters each year nation-wide. As healthcare diligence has been under strain in light of the COVID-19 pandemic, the numbers may have increased. One of the most prominent outlets of controlled substance diversion is drug wasting events. Some medical staff can misuse the wasting event to fuel their drug addiction, which impacts their performance and conduct, and can lead to patient harm. Verifying wasted drugs by analyzing its composition in a lab is slow, may take hours to days to conclude, and is not practical in most situations.
Enter PharmID—a pharmacy technology company that focuses on detecting and preventing drug diversion with its flagship product, WasteWitness. Their solution takes less than one minute to verify the type and concentration of a wasted drug to thereby helping to reduce drug diversion.
In an interview with MD Tech Review, Barb Marquardt, Chief Product and Medication Officer, and Scott Van Vuren, CEO of PharmID, share insights about PharmID and the value proposition of WasteWitness.
Can you give our readers an outline of WasteWitness?
Barb:
WasteWitness is all about making healthcare safer for patients, workers, and institutions by thoroughly interrogating the wasting event with the help of our proprietary technology. Drug diversion/controlled substance diversion is a big issue that affects a hospital's landscape in various ways. It can create an impaired worker or deny essential medication to a patient and can cause vast damage to an institution's reputation if the diversion becomes public. With WasteWitness, we utilize our patented Raman spectroscopy technology to interrogate the wasting event by molecularly testing the waste substance to prove that the substance is indeed the one that is intended to be wasted and not otherwise.
Scott:
The user wastes the controlled substance through a flow block, an inlet that, using laser technology, analyses the sample on a molecular level to confirm that the wasted solution was the correct drug.
Could you tell our readers about your product offering in more detail? How is it different from other wasted drug analysis solutions that are present in the market?
Barb:
We are the only solution that can test waste right before it is wasted.
So there is no chance of the drug being diverted again. The solution does not require sample prep. The interface is designed for anyone to use. You pick the drug you are going to waste, push it through, hit 'Dispose,' and you are done.
WasteWitness is all about making healthcare safer for patients, workers, and institutions by thoroughly interrogating the wasting event with the help of our proprietary technology
Being a pharmacist and having no ability to quickly identify medications is a huge issue. I often looked at clear liquids while working in a hospital, and without any idea of what it is, I sent it out to a lab. The analysis of such substances is costly and time-consuming, taking from days to weeks. So, it was fascinating when I heard what Brian[Marquardt, Founder and CEO of MarqMetrix] was doing and its applications in hospitals.
Scott:
As long as you can attach a syringe to a lure lock, squirt it again and press three buttons on a test screen, you can use our product. One thing that sets it apart from other solutions in the market is that there is no need for data interpretation. We give you pass-fail information with four different fail categories: drug not present, wrong concentration, low concentration, and high concentration.
How has the current pandemic situation impacted the pharmacy management industry and the business of your clients?
Scott:
PharmID's solutions have been instrumental in dealing with various situations that arose since the advent of the COVID-19 pandemic. For example, fentanyl is a highly controlled substance by the DEA. Its supply chain has daily limits, i.e., the manufacturers can only provide the distributors the drug in a set limit daily. Due to the pandemic, the demand for fentanyl increased drastically as people were put on respirators and intubated, leading to its shortage.
A prominent institution that is a client of PharmID needed to compound fentanyl internally to give it to its patients to put them on respirators. We collaborated with the organization on a procedure to use WasteWitness to verify that the fentanyl they make is of the right strength to give to their patients. So that was one way we were able to assist in the pandemic.
The pandemic has brought a lot of stress in the healthcare system, and as a result, some people utilize the wasting events to seek relief. Therefore, some institutions seek our product to monitor these events so that they can intervene when they find the providers/healthcare workers stealing the drugs and get them help. This way, if the organizations intervene early, they can prevent addiction.
In terms of the post-pandemic situation and the company's future, what is the next big step that PharmID will be taking?
Scott: In the next 12-18 months, we will deliver on several promises. We will move to a more seamless wasting event where users can walk up to the WasteWitness device, provide their credentials by scanning their badge or typing their employee number, and squirt the substance to be wasted. The device will take care of the rest, to the point of running the entire database to check whether the wasted drug was the right one.
One of the other things that we are working on is to be able to feed health institutions with our data into their analytical packages so that their administrative staff can absorb all the diversion information. We have a highly sophisticated cloud platform that provides a unique report to the administrative staff at the provider level about the various wasting events and their pass-fails. We will open our Software Developer Kit (SDK) to expose our API to other industry players so that they can ingest our data and marry it with other wasting and diversion behavioral aspects to provide a complete report.
Right now, the diversion analytic companies look at things like, "are you wasting within the policy?" "Do you take more syringes out of the dispensing cabinet?" etc. We will take that behavioral data and marry it with accurate molecular data to create a holistic picture of the diversion landscape inside an institution. That is something our competitors can't do under their technology and software.